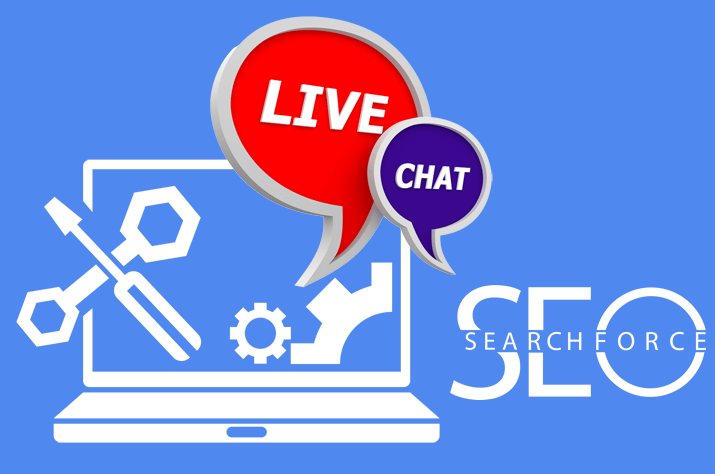 The benefits of live chat for your business can be big. Live chat opens the door for a positive relationship from day one. We live in an era where our lives are fully plugged in. We live and breathe technology all day long, whether at work or relaxing at home after a long day. On the go, we have smartphones and tablets. At work, we use desktop computers and laptops. It may be safe to say we are using technology all day long! At Search Force SEO, we believe in giving your customers multiple ways to do business with you.
7 Benefits of Live Chat for Your Website
1. Efficient Way to get Questions Answered
Have you ever been in that situation where you didn't have time for a phone call but wanted to get an answer quickly? Live chat gives that option to your customers. Often, customers may have questions about finding an item on your website, or they may want to know how many shipping options you have. Either way, live chat is the perfect way to improve customer experience and the likelihood of doing business with you.
2. Build Stronger Relationships with Customers
Live chat can offer a great first impression for your company. It gives your company a chance to offer a friendly and responsive experience. It often leads to increased sales and a more productive phone and in-person meeting since you have already broken the ice. This is where you can get to know your customers and often share contact information such as name, phone number, mailing, and email addresses.
3. Convenient Appointment Scheduling
Many customers find live chat a convenient option when scheduling an appointment. Live chat offers a quick and easy way to book an appointment or fill that last-minute cancellation. Whether your business is a hair salon, a veterinary clinic, or a doctor's office, the ease of communicating quickly is a great way to make your customers happy and return to your business in the future.
4. 24-Hour Customer Service
Does your company sell a product or service that requires 24-hour communications? Live chat is the perfect tool to stay connected to your customers throughout the day or night. Whether your company offers emergency repairs or sells a product that often needs setup help at odd hours, live chat can offer your business a wide array of options to solve the communication gap.
5. Increased Engagement with Customers
Search Force SEO has found that having a live chat option on your website often increases the number of leads driven to your company each month. In fact, live chat often creates greater interactions by simply having that option on the website.
We have developed advanced reporting options that will give you valuable information regarding live chat success on your company's website.
6. Increased Sales
Another great benefit of live chat is the ability to complete customer sales transactions. In most cases, customers will be happy to give you their contact information and finalize the sale without a phone call. Even if your customer isn't ready to make a purchase, you are essentially moving your customer up the purchase funnel by providing valuable information about your product.
7. Standout Against Competitors
Research has shown that more than half of consumers would rather conduct business by chat than a phone call. Simply speaking, if a consumer is trying to decide which company to do business with and sees the live chat option available on your website, they are more likely to start a chat with you than call your competitor.